Congratulations!

Tiandy Technologies Co., Ltd.
has gone upward in the a&s "2020 Global Security 50 Ranking"
Now 7th of the world's Top 10 security brands.
We are very excited to announce that Tiandy has risen to 7th in the a&s Top Security 50 newly released today and again held top 10 security brand. The a&s conducts an analysis on influential surveillance companies worldwide and makes a ranking according to their 2019 sales revenue.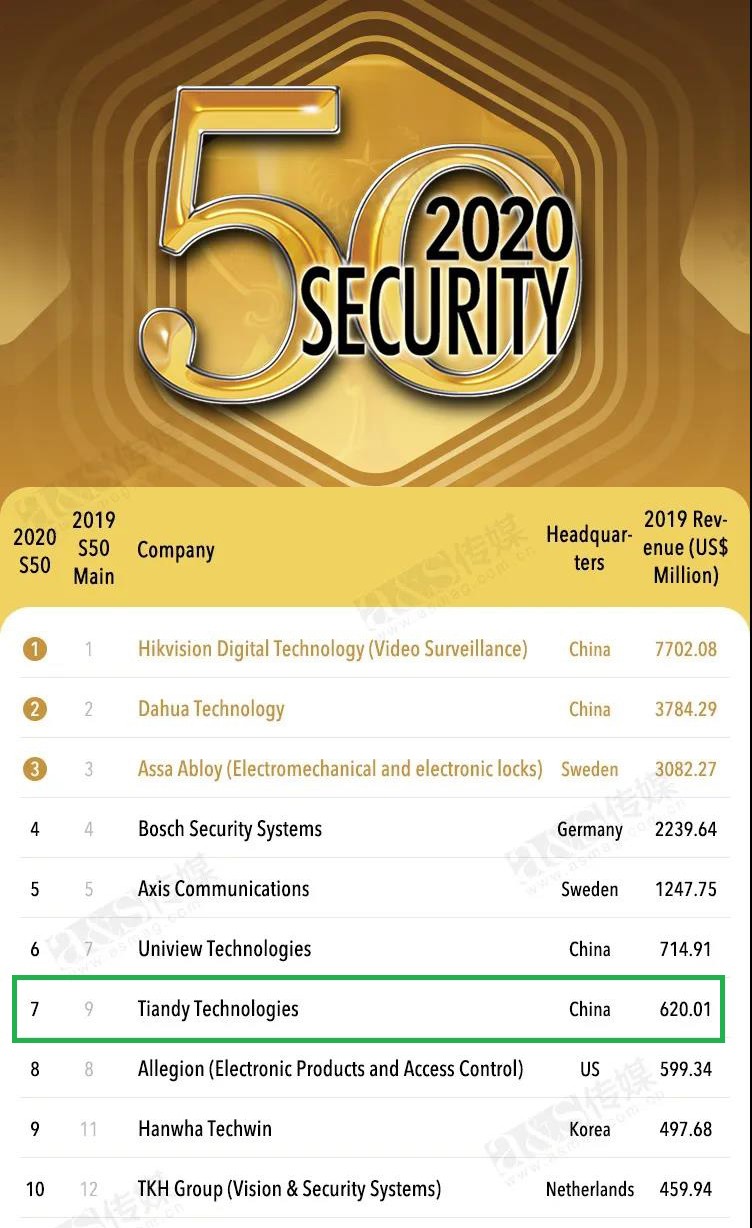 With the continuously increasing demand of global security and the rapid improvement in software and hardware, Chinese brands are recognized by more and more users from different countries. Since the year of 2008, Tiandy has established an international department to officially explore overseas market and for years, has built up a completely mature international marketing system. Exported to more than 60 countries and regions around the world, the products are widely used in Beijing Tiananmen, China Launch Center of Carrier Rockets, Davos Forum, Petra Ancient City, London Heathrow Airport, and more than 400 smart cities such as the capital of Ecuador and Tajikistan. And especially super starlight cameras, panoramic PTZ and other products are highly thought of by overseas customers.
In 2020, Tiandy keeps up with the pace of the times and makes in-depth explorations in AI, cloud computing, big data, etc., and becomes a pioneer in the industrialization of artificial intelligence in China. Facing the future, Tiandy will continue to take "Vision for World" as our corporate mission, relying on global market demand, further consolidate corporate scientific research capabilities, launch products with more national security competitiveness, and open up more possibilities for the industry. The industry's affirmation and the deepening of the market are inseparable from the support of customers and partners, the recognition of users, and the hard work of all Tiandy's staff. Tiandy will stick to its original aspiration and fulfill its mission, representing the "Intelligent Manufacturing in China" of the security industry.